Shanghai Kingstronic Co. Ltd
We have R&D centers in Silicon Valley, Beijing, Hong Kong and Tokyo
300 R&D engineers | 3 new items weekly | 1 million units monthly
Assessment

Trade Show

Sourcing Event

Magazine

Major Customer
Contact Supplier:

Add to Basket
Mr Jia, Yi
General Manager
Mr Zheng, Xiaohua
Manager
Response Rate: High Avg Response Time: 24-48h
Follow Supplier:

Follow Me
Trading Services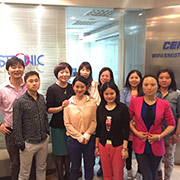 Our Experienced Service Team
Trading Profile
We provide efficient service to develop domestic and global markets in close cooperation with our customers worldwide. We also act as a trade agent in China for overseas customers.
Product Portfolio
Televisions (mini TVs)
Audio products
Video products (DVD/VCD/DSR)
Security systems/CCTV systems/alarm systems
Detectors/measure (meter detector; meter measure)
Wireless products
OEM
OEM services are welcome
Minimum Order and Delivery
Small Order Accepted
Prompt Delivery
Management and Staff
Director: Jia Yi
Manager: Zheng Xiao Hua
External Selling Department: Dong Yin; Bai Yu; Sho Kai
Engineer: Zho Yi
Communication
All of our staffs have good communication skill.
Major Buyers
Coby Electronic Comp (US)
Central Purchasing Inc (US)
Radio Shack Quelle(Germany)
Tamashi (France)
Elof Hansson (Sweden)
Major Suppliers
Philips, Panasonic, Samsung, Tanashin
Brands
Kingstronic, Villa, Champ (designed by our company), RCA, Radio, Tamasni (OEM)
Expertise
Consumer electronics.

This Verified Supplier's Business Registration profile has been independently verified with relevant government agencies
Supplier and product information updated April 07, 2017.
Submit your Buying Request with TradeMatch


Fast and easy to use

Receive tailored offers

Compare quotations

Close
Please select your preferred language:
If you wish to change the language or use the original language later, please refer to the header or footer for more language options.
Verified Manufacturer

The business scope of this supplier's independently verified Business Registration, as licensed by relevant government agencies, allows it to manufacture goods. View BR Profile
Supplier Capability Assessment

This supplier has a supplier audit from an independent 3rd party. View details

Click photo to download report
Back to Top